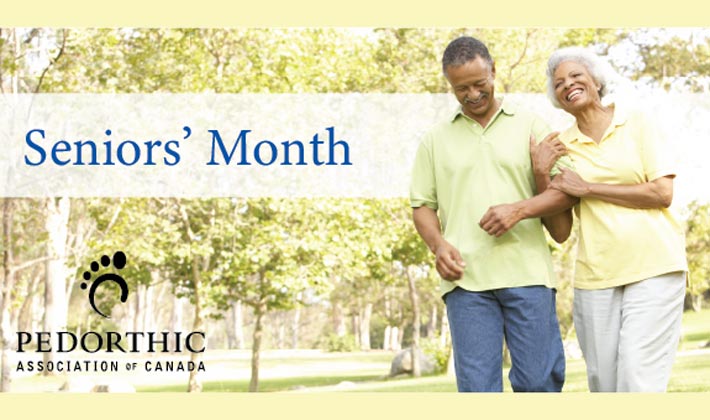 In case you missed it, June was Seniors' Month here at the Pedorthic Association of Canada! This month we shared information on the topic of aging and footcare. Here's a recap of the what we shared this month:
~~~~~~~~~~
Pilates is an excellent activity for most seniors. If you've never tried Pilates this article will help you get started https://www.verywellfit.com/is-pilates-good-exercise-for-seniors-2704632
~~~~~~~~~~
Here are 8 reasons why you need to pay more attention to your feet as you age #aging #footcare https://www.verywellhealth.com/how-aging-affects-your-feet-1337806
~~~~~~~~~~
You've earned your retirement. Don't let a fall ruin your plans www.pedorthic.ca/dont-let-a-fall-dampen-your-retirement/
~~~~~~~~~~
If your back hurts, the cause may be your feet https://pedorthic.ca/videos/sore-back-take-a-look-at-your-feet/
~~~~~~~~~~
While issues with our feet do not discriminate against age, there are a few conditions that become more common among older adults. Read on to learn more https://pedorthic.ca/4-common-conditions-associated-wi…/
#PACSeniors #CPedC #Pedorthist
~~~~~~~~~~
If you're a senior, spending 30 minutes a day walking briskly on a treadmill will help maintain your mobility, balance and fitness. Try this treadmill workout plan https://www.verywellfit.com/treadmill-walking-for-seniors-3436652
~~~~~~~~~~
Most falls are preventable. These tips will reduce your risk #seniors #fallprevention  www.pedorthic.ca/dont-let-a-fall-dampen-your-retirement/
~~~~~~~~~~
Foot pain can be treated. Don't let sore feet slow down your retirement plans https://pedorthic.ca/pedorthic-advice-for-retirement/
~~~~~~~~~~
Wondering how a pedorthist can help you? https://www.canadianliving.com/health/prevention-and-recovery/article/this-is-why-you-need-to-see-a-canadian-certified-pedorthist
~~~~~~~~~~
Custom foot orthotics can help alleviate foot, knee and back pain. Here's Lori's story https://pedorthic.ca/videos/patient-profile-custom-orthotics-for-back-pain/
~~~~~~~~~~
Even though June is coming to a close, it is important to consider why your feet need special attention as you age. If you're a senior, or if you have seniors in your life, encourage them to make a Pedorthist part of their foot health care plan—find a local Pedorthist here.