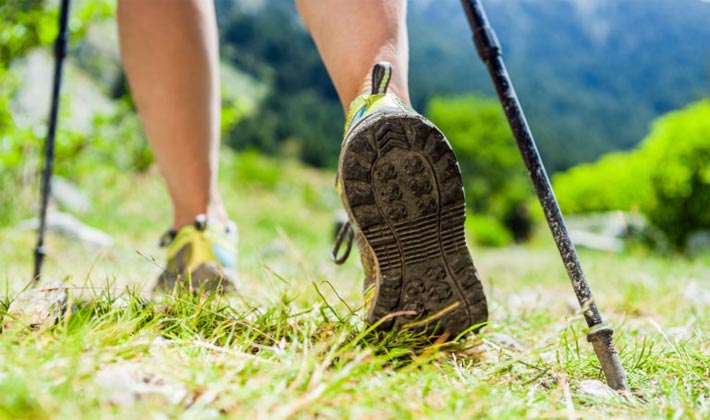 July is here and if you're like me, you have just celebrated this great country of ours on Canada Day! As Canadians, I think we can all agree that Canada is a great place to live; it has some amazing things to offer all of us at any time of the year. Summer in particular is a coveted season for many of us: a time to get outside and enjoy the warm weather and take part in more physical activity than usual.
Being more active means that you need to think more about your foot and lower limb health: pain or injuries in the lower limbs or feet can not only affect your level of physical activity, but can deter you from being active in the first place. Worse still, attempting physical activity without considering your foot health can lead to pain and injury as well.
Your local Canadian Certified Pedorthist – C. Ped (C) – can help you stay on the right track when it comes to taking care of your feet when physically active. Here are five reasons why you should consider visiting a Canadian Certified Pedorthist near you:
Your C. Ped (C) can help with many foot and lower limb problems
Canadian Certified Pedorthists provide excellent conservative care to their patients. They treat, manage and can even resolve many lower limb and foot issues including plantar fasciitis, bunion and toe pain, injuries related to sports or overuse, complications/pain from diabetes and arthritis, various pediatric conditions, and neurological and mobility impairments, just to name a few. A Pedorthist can also help with anything from a simple shoe fitting, to lacing techniques to improve your shoe fit and prevent blisters, to complex mobility challenges from a serious condition.
Canadian Certified Pedorthists are highly educated and trained
Canadian Certified Pedorthists are one of the few healthcare professionals trained in the assessment of lower limb anatomy, and muscle and joint function. Pedorthists in Canada complete a unique diploma program at Western University that includes a practicum for hands-on training and specific education on foot orthotics and footwear. As a result, they have the skills and training to actually custom build and manufacture many of the devices they dispense, including custom-made orthotics and footwear modifications. Many clinics will also often have an onsite lab at the clinic where they practice, so they are able to make orthotics and adjustments to shoes in a timely manner.
Canadian Certified Pedorthists must practice and abide by a strict code of ethics
Anytime you see someone's name with C. Ped (C) beside it, you know that the person has been certified and is a member in good standing with The College of Pedorthics of Canada, a national, self regulatory body whose primary purpose is to protect the Canadian public who receive services from Canadian Certified Pedorthists. The College ensures that certified members are accountable to the highest standards of practice by enforcing ethical conduct. Through the Code of Ethics, the College achieves and maintains high standards of professional integrity toward clients, colleagues, partners, stakeholders and the public. Above all, protecting you, the patient, is the focus.
Pedorthists are health care professionals recognized by private insurance companies
Your C. Ped (C) will provide and/or manufacture custom foot orthoses, custom made footwear, orthopedic footwear and footwear modifications to individuals. Often these services and products are covered by health insurance providers, which can lessen the financial burden on patients. The Pedorthic Association of Canada and its members value the profession's relationship with Canada's insurance industry. Insurance providers often consult with the Association so as to continually devote time and attention to guarding against insurance fraud.
Your Canadian Certified Pedorthist is an important member of your health care team
When you visit a C. Ped (C), you know that you will receive the best care possible for your foot and lower limb condition. You can expect that he or she will work closely with other primary and allied health professionals to ensuring the highest quality of care. This includes working with your family physician, physiotherapist and sports medicine specialists. For more on Pedorthists as part of a team approach, read our previous article.
If you are living in Canada and are experiencing foot or lower limb problems, find a Canadian Certified Pedorthist near you who can provide exceptional care to get you "back on your feet" and enjoying the outdoors again!
To find a Canadian Certified Pedorthist – C. Ped (C) – visit the Pedorthic Association of Canada's website to search for one today.
By Derek Gilmer, C. Ped (C)