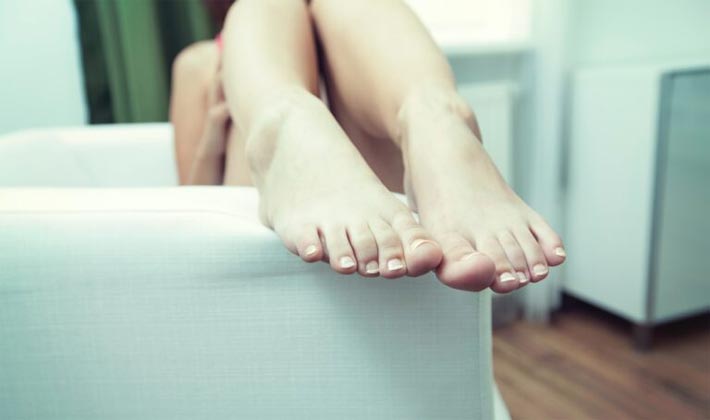 During this new era of physical distancing, here are a few suggestions to help improve your foot health:
Morning stretches – If you aren't having to rush in the morning, take a moment before or after breakfast to perform foot exercises that will give you a jump start on your feet feeling great all day. The exercises are similar to those typically prescribed for Plantar fasciitis or a Metatarsalgia injury such as rolling your foot on a massage ball, gently stretching the toes back to produce a soft pull on the bottom of the foot and simply writing the alphabet with your toes to give your feet and ankles some nice gentle movement.
Compression stockings – No better time than the present Pandemic to get your socks out! Most compression stockings are intended and designed for daily use and they provide many benefits for your feet and overall health such as improved circulation by helping the blood pump up the legs and back to the heart. If you experience even mild amounts of swelling, compression socks may be a useful tool to keep your legs feeling fresh and comfortable. Working remotely allows your attire to remain undiscovered during all your Zoom meetings, so switch it up and experiment with different textures and styles of compression socks.  A Pedorthist can guide you toward the styles and lengths that will suit your needs best.
Donate unwanted shoes – We tend to accumulate many pairs of shoes over time and forget the reason why we don't wear them. Use your time while self isolating to organize which shoes are bothersome and which shoes are for keeps. You should be able decide within 20 minutes of wearing the shoe around the house if it belongs in the discard pile. Take a look at the sole of the shoe, if you see that the soling has worn down or there are lots of compression lines/folds in the sole you may be in need of a replacement. You can also check the overall stability of the shoe by trying to bend or twist the shoe. If it easily folds with the stress of your hands then generally that shoe is not going to provide your feet with any support. Pack them up and donate! But don't toss out all your dancing shoes, when the pandemic is over you may need them to celebrate!
Take a footwear inventory – With extra time on our hands, many of us have made intentions to become more active. Different activities tend to have different demands for footwear. Make sure you have a shoe for each type of activity to ensure prevention of falls and injuries. Review your footwear for; work, leisure, indoor, wet environments (pool, kayaking, boating) winter and summer weather.
Exercise – It is the most excellent way to keep your feet and body in your best health. While indulging in a self-distancing round of golf, you may notice your custom orthotics do not fit properly in your golf shoes. Or, while gardening, your gardening shoes might lack support.  If you experience any pain or discomfort in your feet or lower limbs schedule a consultation with a Canadian Certified Pedorthist.
Foot Pampering – Lastly, this is an excellent time to pamper your feet. Start with having someone check the soles of your feet for any red flags or concerns such as a corns, blisters or cuts. A mirror will also allow you to quickly check the bottom of your feet if you are on your own.  An Epsom salt bath is a great way to relax, followed by a foot massage with a tennis ball, foam roller or your hands.
For all that your feet do, it is a great time to give them some much needed attention!
By Kathy Simpson, C. Ped (C)