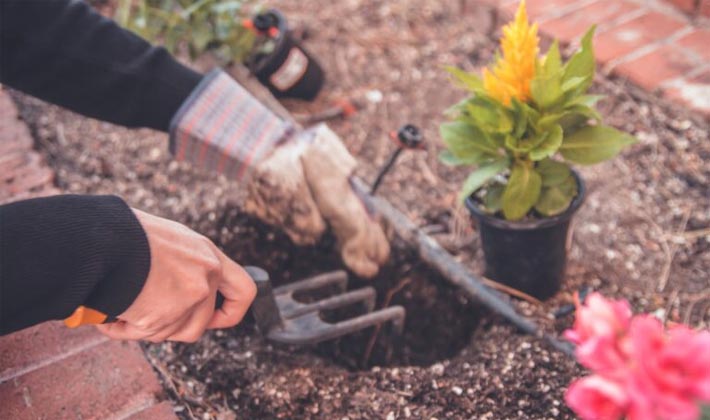 Gardening can be a messy hobby. It requires many hours outdoors with unpredictable weather – especially as we head into fall and prepare our gardens for winter. Here are some tips to keep your feet protected and feeling great in the yard.
Choose your footwear carefully – Even if you believe your shoes will get dirty, wear good, supportive shoes and avoid sliding on flip flops, crocs or someone else's shoes because they're convenient. When you're gardening you need to be careful to protect your feet from potentially sharp objects, insects and the sun. Some people prefer to designate an older pair of running shoes for every day gardening use. If this is the route you choose, it is important to choose a shoe that still provides your feet with some cushioning and support and keeps your feet feeling great. A Pedorthist can help you with this!  A Pedorthist can also "improve" your old runners by helping to designate an insole or orthotic that will provide your feet with the proper support to keep you stable and strong. This simple maneuver can help your knees and back feeling great, even after a long day in the yard!
Avoid prolonged time in worn out, rubber or steel toe boots – Once the dirty digging and grass cutting tasks are over, it is best to switch to a more supportive shoe for the rest of your yard work. Spending prolonged time in rubber or wet footwear can lead to excessive moisture and may lead to blistering and even a wound. Footwear features that may be best for gardening are; Gortex or other water resistant technology, orthotic friendly design, seamless materials and durable soling to wear around the yard. When you do need to wear a steel toe shoe or boot or even rubber boots, remember that often even an off the shelf insole inside of these can increase the cushioning and support and help with shock absorption and creating a stable base.
Avoid prolonged positions that may create pain. Try squatting with one foot flat on the ground and the other leg with the knee planted on the ground. This is known as the golfer's squat. If this is much too difficult, another option can be a foldable, adjustable stool. Whatever position you take, it's best to avoid over flexing your toes. This can put immense strain on your arch, toes and calf muscle. Wear shoes with firm soles to resist excessive flex in the sole during squatting.
Lastly check your feet after a full day of gardening. A rock in the shoe that may go unnoticed may irritate your feet. It is important to shake out your footwear after a long day in the garden. No matter how messy your garden is, keeping your feet dry and clean is important to prevent blistering and wounds to your feet.
By Kathy Simpson, C. Ped (C)