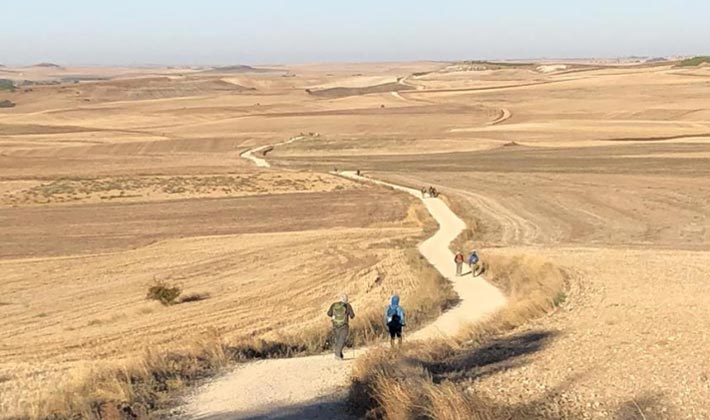 Have you heard of El Camino? No, not the car. The word camino is Spanish and simply translates to path. Technically, there are so-called caminos or paths all over the world. However, I've especially noticed a significant increase in the number of patients I see who are preparing for the Camino de Santiago. Here's a quick look at what it is and how a Canadian Certified Pedorthist can help you to prepare for taking on the challenge.
What is the Camino de Santiago?
Camino de Santiago, the Way of Saint James, is the common name for a network of walking paths which all lead to the cathedral in the city of Santiago de Campostela situated in the northwest of Spain. For over 1000 years, pilgrims have been making the trek to Santiago, where it is believed that the remains of Saint James are today. In 2017, an estimated 300,000 people made their way to Santiago via these walking paths. Whilst it has historically been used as a literal path for spiritual growth, the Camino de Santiago has quickly become a destination for people from all over the world, of all age groups and abilities wishing to participate in Active-Tourism by hiking and cycling these paths.
A Variety of Routes & Terrains
A map of the network shows numerous routes beginning all over Europe. The most popular being the Camino Francés (the French Way), Camino Portugués (the Portuguese Way), Camino Primitivo (the Original Way), and Camino del Norte (the Northern Way). The Camino Francés, consistently the most famous route taken by Active-Tourists, begins in St Jean Pied de Port (loosely translating to "at the foot of the harbour"), courses through the French Pyrenees mountains, and goes on for about 800km to the stunning cathedral in Santiago. While it's not impossible to cover the 800km (a traditional pilgrimage may be completed in 40-45 days) many people opt to complete the trek in one- to two-week blocks over the course of several years. Some folks also choose to focus on the last 100km from Saria to Santiago.
In any case, an average of 20km per day of walking is to be expected as some accommodations are that far apart. For comparison's sake, a 2017 study published in Nature: International Journal of Science found the average Canadian walks less than 4km a day. On the Camino Francés, walkers are subjected to a variety of terrains. As one of my patients put it, "The Camino is a literal cornucopia of different walking experiences, from asphalt and crusher dust to pebbles to stones to rocks of non-uniform size and shape and spread along and up and downhill slopes of many different degrees and durations." Needless to say, it's not a walk in the park and can be taxing on both mind and body.
There's a profound expression on the trail, "The Camino provides." It is often a boost to the state of the mind or body. Those who have been will tell you stories of moments on their journeys when the one thing or person they needed the most seemed to surface out of nowhere. A Band-Aid, a place to stay, a new friend… wine. The Camino truly provides what you need, even when you don't know you need it yet. That said, it doesn't hurt to prepare yourself well before your own journey. Here are some Pedorthic pointers to get you ready for your trek.
Consider your Footwear Options
Footwear considerations should be at the top of your to-do list. Unfortunately, there is no perfect pair of shoes or boots that is ideal for everyone who takes on the Camino. On the trail you'll see walkers wearing everything from hiking boots to sneakers, sport sandals to flip flops, and even toe socks!
Work with your Canadian Certified Pedorthist well in advance to determine what your needs are related to your feet and the route you'll be taking. Be sure to take into consideration the possibility of your feet swelling (this can be related to travel, heat, changes in diet, and more) and the type of socks you'll be wearing. Play with different lacing techniques to figure out what will work best for you. (For lacing techniques check out this article.) I regularly recommend using a sturdy hiking shoe or boot and a pair of sandals, preferably with a strap that goes around the back of the heel, to change into after the day of hiking.
Get Used to Walking
Start walking at least three to four months before departure. Slow and steady build up is best as the body needs time to adapt and build up aspects of fitness like strength and endurance in the process. If you're not accustomed to walking much at all, start with 30-40 minutes twice a week. A quick Google search populates an assortment of training plans. Don't forget to incorporate the footwear and any gear you plan to use, and a variety of terrain and elevations to simulate what you'll encounter on the trails.
Look into Orthotics
If you experience foot or lower leg pain that is increasing with training, you may need to provide extra support or cushion for your feet by way of custom or off-the-shelf foot orthotics. Consulting with a Canadian Certified Pedorthist – C. Ped (C) can determine if foot orthotics will help make for a more comfort, pain-free Camino experience.
Choose the Right Socks
Socks are right up there with shoes and orthotics when it comes to comfort in walking 20km a day. Use your training time to test different socks. Wool socks with extra padding under the heel and ball of the foot seem to be a favorite for hikers. Be sure to take enough pairs so that you have a fresh, dry pair as often as you need them. Some people benefit from changing their socks multiple times in the run of a day. You may also wish to incorporate compression socks. There are off-the-shelf and medical-grade compression options. Consult your Pedorthist to determine if either option would be suitable for you.
Put Safety First
A small First Aid kit is a must. Even if you didn't get a single blister or damaged toenail while training, you're still at risk for getting one while you're on the Camino. Suggestions include Moleskin, blister Band-Aids, talc, scissors, nail clippers, and anything else your feet might thank you for. There are also some small pharmacies along the route where you can pick up some Compeed.
Invest in Some Walking Sticks
Walking poles or sticks are nice to have to distribute body weight and provide an added stability while walking for long distances or on tough terrain. You can purchase lightweight, collapsible poles prior to departure, or you can do as one of my patients did and pick up a walking stick that was left behind by another hiker.
By Jaime Nickerson, C. Ped (C), B.Sc. (Kin), Dip. Pedorthics
References:
https://en.wikipedia.org/wiki/Camino_de_Santiago
https://www.nature.com/articles/nature23018