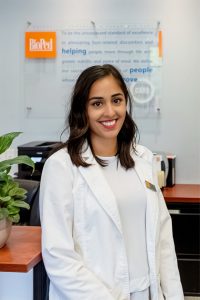 In her fourth year at Simon Fraser University, Ish took a course that required her to complete a practicum at an Orthopaedic Clinic. Working with an Orthotist and Pedorthist inspired Ish to follow a career path into Pedorthics. This path has led Ish to become an owner at BioPed in Surrey, British Columbia.
Helping patients with pain is the most rewarding part of Pedorthics for Ish. Helping patients resume and continue with their daily activities brings her joy and satisfaction. Mentoring other apprentices to help them on the first steps of their career is a point of pride for Ish, as the next step in her own career is to begin opening more clinics in BC and grow the Pedorthics Industry. Ish says that Pedorthics is a very rewarding career – she has been able to set goals for herself and achieve what she dreams of.
Ish is also a member of board of the Cerebral Palsy Association of British Columbia. Through her volunteer work with this association, she is able to raise awareness of cerebral palsy in the community, assist those living with cerebral palsy to reach their maximum potential, and help those living with cerebral palsy realize their place as equals in a diverse society. Ish is also the founder of Shooting for Hope, a social action organization with the vision of giving young girls from rural communities in Punjab, India a chance to enhance their lives through the unifying game of soccer.
Ish has always played soccer and has continued to do so, keeping her active. She also has a toddler that helps keep her moving – maybe just as much as soccer! On the weekends she loves to wind down and spend time with family.