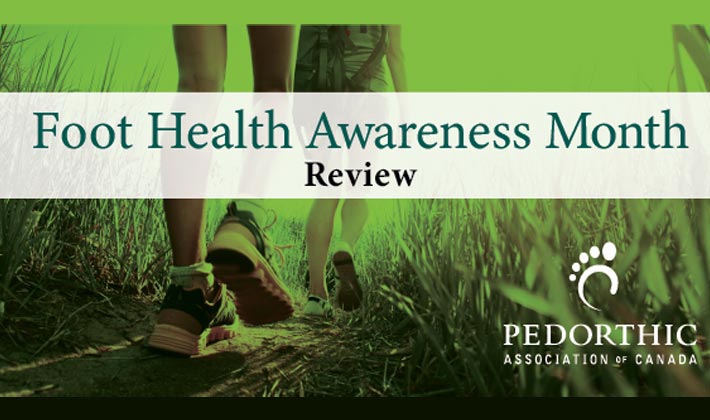 In case you missed it, May was Foot Health Awareness Month here at the Pedorthic Association of Canada! This month we shared information on the topic of footcare and health. Here's a recap of the information we shared this month:
~~~~~~~~~~
Foot orthotics and orthopaedic shoes are widely available – you have probably noticed signs for them in stores in your community or on online shopping sites. To make sure you are getting the best care possible for your feet and lower limbs ask your family doctor for a referral to a Canadian Certified Pedorthist. Read our blog article for more on finding the best care possible for your feet and lower limbs.
~~~~~~~~~~
How do you know when your shoes need to be replaced? Take a close look at each pair of your shoes. If you see signs of wear, including worn out treads, creases in the midsole, indents inside the shoe or asymmetrical wear patterns it is time to purchase a new pair. Read the full post here
~~~~~~~~~~
Did you know that it's completely normal for young children to have flat feet? Babies are born with a fat pad where the arch normally is, making their feet appear flat. Young children also have very flexible feet, which causes them to flatten more when standing. Keep reading
~~~~~~~~~~
From an early age we're taught the importance of keeping our shoelaces tied, and if we didn't listen to this advice, we quickly learned why it is not safe to run around with untied laces. Tripping hazard aside, tying your shoelaces is very important as it affects how your footwear fits and functions. Different lacing techniques benefit different foot types. In Why Lacing Matters, we present some guidelines to help you determine which technique is best for you.
~~~~~~~~~~
Foot problems are the leading cause of hospitalization for Canadians living with diabetes. Canadian Certified Pedorthists – C. Ped (C) – are integral members of a person's health care team. They offer a unique skill set to help manage and prevent potential foot complications from diabetes. Read more in our blog article on what role a Pedorthist can play in help people manage their diabetes.
~~~~~~~~~~
What is an orthotic, you ask? Watch one of our most-viewed videos with the answer: What is an Orthotic?
~~~~~~~~~~
Canadian Certified Pedorthists regularly work with a variety of health care providers including nurses, who specialize in foot and wound care, and physiotherapists, to develop a treatment plan best suited for the individual patient and to provide you with the best care possible! See full post here
~~~~~~~~~~
One thing that sets Canadian Certified Pedorthists apart from other providers is our skillset for modifying footwear. This video explains! The Magic Behind Modified Shoes
~~~~~~~~~~
Although arthritis is common, affecting about 20 percent of Canadians over age 12, it is not a generally well understood condition. Many myths about arthritis exist, but it's important to set the record straight so patients can be well informed about their health. Read Pedorthics & Arthritis: Debunking Common Myths for more on this topic.
~~~~~~~~~~
Even though May is coming to a close, it is important to continue to make foot health a part of your overall health care plan going forward. Make a Pedorthist part of your foot health care plan—find a local Pedorthist here.