Clinical Practice Guidelines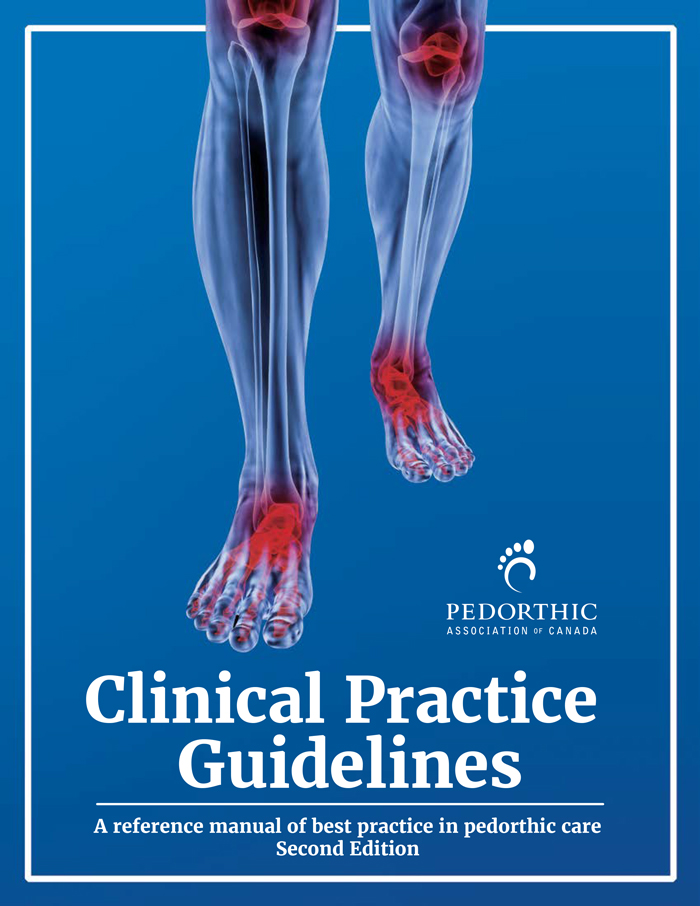 Clinical Practice Guidelines
A reference manual of best practice in pedorthic care (Second Edition)
Canadian Certified Pedorthists working together to improve patient care.
In April 2018, the Pedorthic Association of Canada released the second edition of its Clinical Practice Guidelines (CPGs).
PAC's Board of Directors first committed to producing CPGs in 2010. The desire was to create a platform for greater dialogue about best practice and to advance the profession in the eyes of the general public, other health care providers, and policymakers.
A volunteer Task Force came together while volunteer writers and reviewers were rallied from across Canada and beyond. In 2012, PAC released its first CPGs. More than 500 printed copies are in circulation.
In 2017, the PAC Board determined that it was time to produce a new edition of the CPGs to account for new developments in the practice of pedorthics, thereby helping to improve patient care. A new Task Force was convened and a process was undertaken to update the publication. All chapters were reviewed; most were updated; and seven new chapters were added. Again, the process was volunteer-driven and inspired by a shared desire to standardize and enhance patient care.
The 2018 edition is available as a coil-bound, black and white print publication and as a colour digital file (PDF) accessible by licence. All PAC members in good standing are entitled to a licence for the electronic edition at no additional cost.
Our pricing is as follows
Print version for PAC members: $49.00 (includes shipping in Canada and the U.S.)
Print version for non-members: $99.00 (includes shipping and a three-year licence for the digital version)
Electronic version for non-members: $49.00 (valid for 36 months from date of purchase)
PAC's 2018 Clinical Practice Guidelines Task Force comprised:
Jeff Fink, C. Ped (C) (Chair)
Linda Deschamps, C. Ped (C)
Adam Froats, C. Ped (C)
Andrew Godwin, C. Ped (C)
Jennifer Gould Andrew, C. Ped (C)
Lisa Irish, C. Ped (C)
Michael Ondevilla, C. Ped Tech (C), C. Ped (C)
Kelly Robb, C. Ped (C)
Michael Ryan, C. Ped (C)
Brian Scharfstein, C. Ped (C)
To share your feedback and questions about PAC's Clinical Practice Guidelines, please contact PAC at info@pedorthic.ca