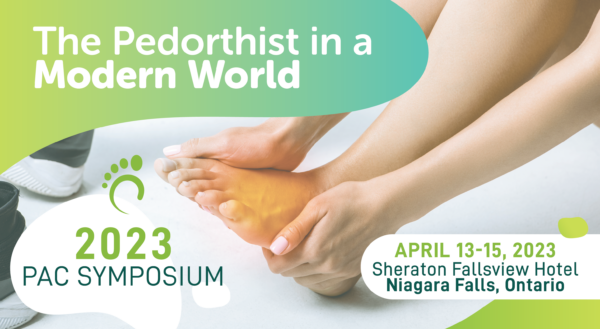 PAC's annual Symposium is an educational event known internationally for bringing together some of the best keynote, plenary and workshop speakers from around the world. In addition to high quality presentations, the Symposium features a tradeshow with 60+ exhibit booths.
Attend in person and reconnect with colleagues and friends; or attend virtually through real-time streaming.
Meet us in Niagara Falls to enjoy the same opportunities you have come to expect from the annual event: top quality educational content, industry exhibitors, and of course the annual Social Night. Virtual attendees will be able to watch the main plenary sessions in real-time and participate in the Q&A with an online forum, breakout sessions will not be available to those attending virtually.
CO-CHAIRS: Christy Shantz, C. Ped Tech (C), C. Ped (C) & Josée Gringas, C. Ped (C)
The College of Pedorthics of Canada has awarded 15 CEP for in person attendance; and virtual attendees will receive TBD CEP
Pricing:
Member early bird price $499 until March 13th , after that date $599
Non-member early bird price $599 until March 13th, after that date $699
Social night $50
If you have any questions or require help with registration, please contact the office at info@pedorthic.ca or (888) 268-4404.